New York Advocacy Conference:
Team FRC 1511, in conjunction with FRC Team 20 and FRC Team 4122, put on the first annual New York Advocacy Conference.  Held at Shenendehowa High School where we helped educate and equip 8 FRC teams from across New York State to advocate for STEAM education in their local and state governments. With guest speakers Michael Tiner, Ossining High School Government Teacher, Dan Fuller, NYS Deputy Secretary of Education, and Steve Hyer, founder of the FIRST National Advocacy Conference students learned how government works, the state of STEM education in New York, as well as what advocacy is and the basics of getting started.  Also covered was Assembly Bill A671 , which would provide a budget line for start up grants for FIRST teams in New York, How to Have an Effective Meeting, and a postcard campaign to support the assembly bill.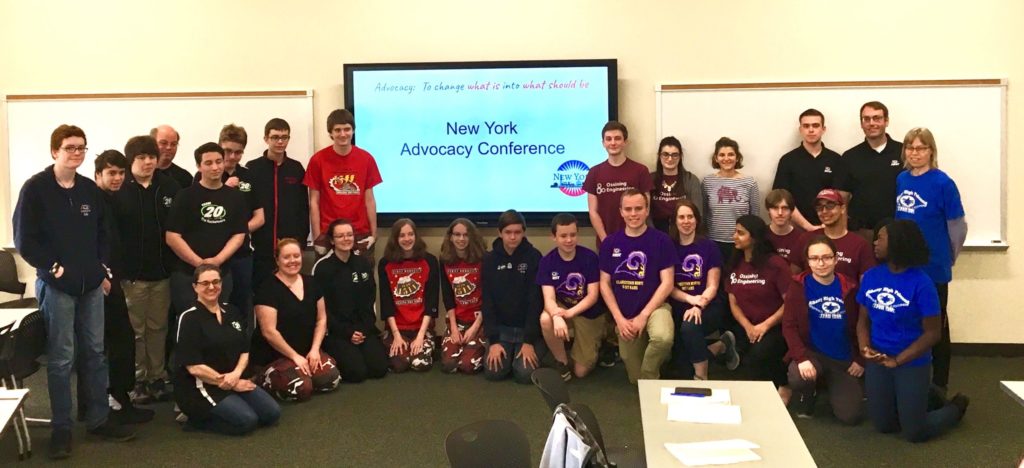 National Advocacy Conference:
Rolling Thunder is a member of the coordinating committee of the FIRST Nation Advocacy Conference.  Every year, 1511, along with teams from all over the country, travel to Washington, D.C. and learn more about and help equip other teams for STEAM advocacy. In 2019, 1511 was one of the many student presenters where we described our efforts in New York advocacy and the creation of the New York Advocacy Conference.  While attending the conference our students have met with Congressman Joe Morelle as well as the offices of Congressman John Katko, Senator Charles Schumer, Senator Kirsten Gillibrand and (former) Congresswoman Louise Slaughter.  Over the years we have attended the conference we have lobbied for ESSA, as well as increased funding for ESSA, for the reauthorization of the Perkins Act, the Christa McAuliffe Commemorative Coin Act of 2016 and participated in two meetings with the Secretary of Education. Team 1511 has also partnered with the Student Association for STEM Advocacy as a founding charter member. Through this partnership 1511 has committed to building STEM related advocacy efforts at the local, state, and national level. They are an integral piece in building a coordinated STEM advocacy effort across the United States
Local Advocacy Efforts:
1511 has also met with several local representatives to gain support for STEAM funding in our public schools.  We have met with (former) State Representative Mark Johns, (former) State Senator Rich Funke, (former) State Senator Joseph Robach, Assemblywoman Jen Lunsford as well as (former) Congresswoman Louise Slaughter.  With Mark Johns as well as Jen Lunsford they discussed student advocacy, community engagement and how we can work together to spread FIRST in NYS as well as asked them to sponsor NYS Assembly Bill A671, and with Rich Funke discussed our efforts during the pandemic, continuing our advocacy work, build relationships with elected officials and Senate Bill S4304.