Saturday, February 1. 2014
January has flown by and week five has arrived! Monday through Friday I go to work and complete my mundane tasks while thinking about our ROBOT. On my lunch breaks I scour Chief Delphi for new ideas and obsessively check the manual for rule updates. Around the water cooler and microwaves I talk about FIRST with interested coworkers, 1511 mentors, and mentors from other local teams. All of this looking forward to the time when I can grab my safety glasses and BUILD A ROBOT.
But today is SATURDAY which means I can build a robot from ten am to midnight. And this isn't any ordinary Saturday…it is National Ice Cream for Breakfast day. And not only is today National Ice Cream for Breakfast day…it is also 1511 Breakfast for Dinner Day! AND as if today wasn't topsy turvy enough…EVERYONE IS WEARING PAJAMAS!
Just in case there was not enough excitement for us, we have gotten lots and lots of parts back from Harris and Chamtek! Today has been full of painting and assembling, painting and assembling, painting and assembling, and EATING BACON. The Bacon Inspector even graced us with his presence and excellent bacon making skills. (even though he was really late)
However, as a mentor, I am suffering. My students are too self sufficient. They magically generate painted pieces. Since the drivetrain is complete, I am taking tasks from the other sub teams which means I am begging the students for jobs to do. We are functioning like a well oiled machine but the question still stands: will we have a working robot done by rally? So with that question I must be going to save the world from unfinished robots one piece of bent sheet metal at a time.
P.S. Larry just brought Leann a plate of leftover bacon and stated "Never say I don't bring home the bacon." #TrueLove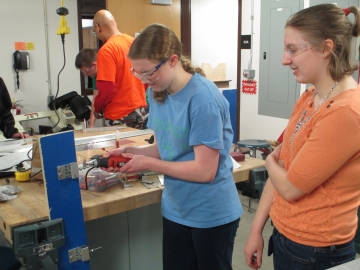 Posted by Mentor Blogger