Sunday, February 14. 2010
Happy Valentine's Day! 
And what a better way to celebrate the day of love but with Rolling Thunder! 😊
Mentor Bear supplied bagels, donuts, and coffee this morning.  Thanks!
Lunch was thanks to Theo's family and was vegetarian chili, served with cornbread muffins, tossed salad, and orange cake and chocolate cake for dessert.  It was another great winter lunch!
The shop is very busy, with parts being made in every corner.  I love seeing all the hands on work the students were doing! Programmers were busy working with Thunderplucker in the cafeteria, where work on the field assembly was continuing. The 2nd ball return system has been installed and two of the goals were put in place.
Several students took the opportunity to take the game test today.  I learned that I had missed in reporting that Calvin had joined the group of students who have achieved 100% on the test and are eligible to be on the drive team or in the pit crew.
And 5 hours flies when you are in crunch time to finish a robot! So…
Here's what we had for dinner! Andy's mom treated us to a wonderful valentine's day meal!  Meatball subs with a veggie-ball option, served with chips and veggies and dip.  She decorated with little dishes of conversation hearts and gummy hearts. Dessert was red camo decorated heart shaped cakes!  The red and black frosting turned our tongues bright shades of pink and purple. It would have been the photo of the day except I though it was a little gross to take a photo of all of us with our tongues sticking out.
After dinner we took an informal survey to determine the name of the robot and Thunderfoot came out as the clear choice.  Much work was done on the assembly of the robot today as parts were aligned, trued, trimmed, chopped, filed, chamfered, rounded and fitted.  Parts of the winch were made, the beater bar design was completed, and the kicker was reassembled.  By the end of the evening the robot kicker was at the stage where it could be fired with repeatability in the trajectory of the kick.
With a long week ahead of us, we packed up and headed home to celebrate what was left of the day.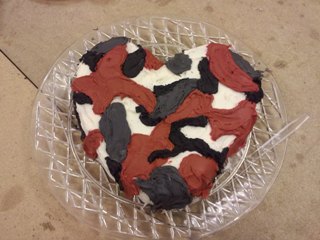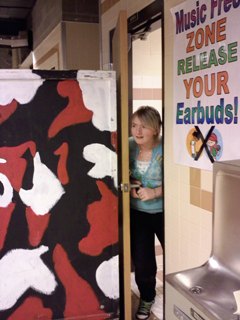 Posted by Cynette Cavaliere