Wednesday, February 17. 2010
Winter Break, Day 3
I came very late tonight, so this is a quick update!  Thanks to Mentor Bear for taking the noon Mentor-in-Charge duty!
What we ate for Dinner! (And I was sorry to have missed it!) Thanks to Tom P.'s family we had PASTA!  Some with hamburger, some with sausage, some with both hamburger and sausage, and some with just plain sauce!  There was tossed salad, bread and brownies for dessert!
There was a lot of essay writing going on while I was here!  The Chairman's essay was submitted at 10 pm, a whole 26 hours before the deadline!  And it was a good thing because the FIRST essay entry system was not very user friendly.  It removed all formatting from the essay and transformed it into one giant paragraph!
The player stations on the field has been painted in red and blue!  It looks pretty nice.  The goals have chains and look finished.  The multi-colored pads are still fun!
The crate got a touch-up and bold 1511 letters were painted on all four sides (Becca and Shauna did that).  It is very striking! I love our red camo!
Parentor Val was working on Rally signs, signs, signs, signs, signs!
Thunderfoot was still on a diet and more parts were trimmed, thinned, cut and then finished and repainted to be pretty again.  And when the paint is dry, remounted on the robot.  The superstructure is out at the welder's.  Which means that I can't get the crew working on the bumpers yet since we don't have a firm mounting point.
Well that's enough for today!  (Since in reality it is tomorrow)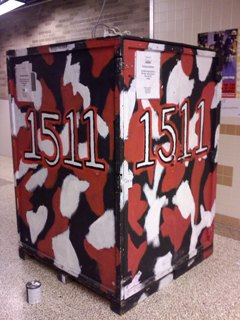 Posted by Cynette Cavaliere