Tuesday, March 26. 2013
Wednesday afternoon the drive team and pit crew drove down for the regional in Boston. They worked all day long to help finish FIRST set up the arena, which still had not been completed. Thursday morning they set up the pit and they continued to work on our robot, PHS Thunderprise, to get it ready for the qualification matches on Friday. Before they began to work, our robot could only shoot 1 in 10, and barely climb to first. By the time they finished late Thursday night, we could shoot in autonomous and climb to the third level. I am still amazed at what we managed to accomplish in such a short time.
Thursday after school the rest of the team, me included, went down to Boston by bus. Seven long and tiring hours later, we arrived at the hotel. First we had to get lost, but what's a trip without a bit of sightseeing? Once we arrived, the team had a meeting, rooms were assigned, and we all gratefully went to bed. The next day, Friday, was when the challenges would begin.
Friday came much too early at six in the morning. By six-forty we were back on the bus and heading toward the Agganis Arena. When we got there we were the first to arrive and we got into a line that had yet to exist. At eight o'clock they let us go upstairs to the arena and we got front row seats right behind the judges. That meant our best behavior had to be exemplary. For a while we all milled around in the pits and the stands, finding old friends and meeting new ones. Then our announcer, Angry Eric, came onto the field.
We started the day just like any other competition, with the standard rules and the national anthems. This time we had three to sing. The United States, Canada, and even Brazil were present. The anthems ended and the day began. Some robots were doing better than others, a typical day in the FIRST arenas. Then, tragedy crashed down on team 88. Their robot fell from the third level of the pyramid and nearly sent them out of the competition for good. Yet, this is FIRST. We don't let anyone go without a fight. Other teams pooled supplies and resources and before you knew it, they were back only four matches later, ready to try again.
The day ended and we all clambered back onto the bus, some of us ready for strategy and some of us ready for Quincy Market. But, as fate would decide it, our bus got both lost and trapped in the difficult Boston city streets. Though our trip to the market was nonexistent, I got to see a lot more of Boston life than I expected. Including a really awesome bridge that lit up blue. That was probably my favorite.
We all split up into smaller groups and went our separate ways to find ways to feed ourselves. The first two places my group went were either closed or too full, so we ended up getting Mexican. I'd never had a burrito. They're strange. Good, but strange.
When we reached the hotel once again we had a short team meeting, and then everyone was sent to bed to sleep. We had one long day ahead of us. Though we didn't know it at the time, it would be filled with grief, success and a vicious pride.
The next morning started a bit later, and we arrived at the arena a bit later too. This time there was a line to wait in. Again, they let us in at eight o'clock and we bolted down to the front rows of the stands. The qualification matches ended just in time for the Elimination ones to start. But before that could happen, alliance selections had to be made.
The top eight teams stood side by side and back to back, picking out the robots that they believed would complement their strategies the best. The eight teams picked their first alliance partner, and then it went back around to one. At this point, our team had all but given up at being picked. There was no way—no way in the world—that the number one alliance would look at our robot once, let alone twice to pick us. I suppose the world works in mysterious ways.
"Team 125 and 126 would like to request team 1511."
I don't know about the rest of the team, but I was stunned to near silence before remembering to cheer like a madman. And that's what we did. We screamed ourselves hoarse. I don't think Mo even had to say that we accepted at all, we kinda did that for him. Then, the elimination rounds began.
We were up first. We won once, then twice without even a blink of the eye. With our robot able to climb to third, and theirs able to shoot over 120 points, we were set for the semifinals. When we went up again in semifinals, we won once, then twice. A bit of worry, but we pulled through. Before I knew it, we were in the finals. The finals. Everything we had worked on for six weeks was about to either crash and burn, or fly so high.
And high we did fly.
Our robot was one of two robots in the competition that could successfully block the monster of a shooter that team 3173, another Rochester team, had without falling over or crashing. Though team 846 was determined to deter us, we plowed on through. We won the first match with a higher score that I had felt possible. The second round started and we all held our breaths and screamed 'til our throats were raw.
That's when we got the two technical fouls against team 3173. That's when we were sure we had finally lost.
Then the scores came up.
We had won.
We had won.
Some of us started crying, some of us started laughing, and all of us screamed until we could scream no more. We had won. We were going to championships. We had won.
On a side note, we also got the Gracious Professionalism Award and the Safety Award. Our safety captain, Shayna, got the safety star award. But after winning the regional, our minds were other places.
Mentor Note:  It's really more than a side note that we got the GP Award and Safety Award, and that Shayna got the Star of the Day for Thursday.  Our students and mentors in the pits worked very hard on Thursday and Friday helping teams get ready and stay ready for the competition.  We logged over 80 individual times of providing team assistance. We also provided several volunteers to help the event run smoothly. And although we didn't come home with the Chairman's award as we had hoped, we know that our Chairman's Presenters represented us well, the students in the pits talking to judges represented us well and the students in the stands
cheering and scouting represented us well. As a mentor, I am very very proud to be associated with this team.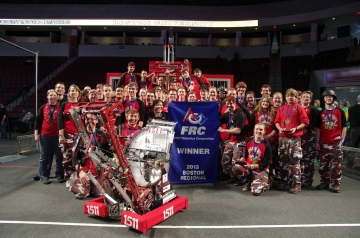 Posted by Student Blogger